Kahakai has an active women's racing program for both long and short distance.
2023 practices will begin March 4, see below for weekly schedule:
Monday 5:45pm

Wednesday 5:45pm

Saturday 7am or 10am (alternates with Kane)
Connie Jensen
Women's Coach
My name is Connie Jensen and I have coached the Kahakai's women's team since 2007. I started paddling in 1994 with Santa Barbara Outrigger, and moved back to Long Beach and joined Kahakai in 1997. Kahakai women's team members are competitive, fun, and have a strong foundation and commitment to our community. We had a winning 2019 season and I'm very excited for the upcoming 2020 season. My goal as the women's coach this year is to continue the momentum we had last year and maintain the fun, competitive paddling that has made us who were are as a team. Our women's team is an amazing group of well-rounded women from all different backgrounds and we look forward to another awesome season!
Please contact us using the Contact Form.  See you on the beach!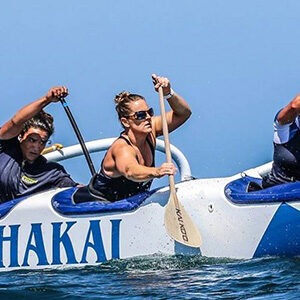 Our Mondays and Wednesdays weekday practices begin, Monday, March 9th at 5:45 p.m. for a 6:00 p.m. launch. Saturday practices are at 7am or 10 am (we alternate with the Men's Team) Be 15 minutes early so we launch on time, hydrated and fueled for practice.