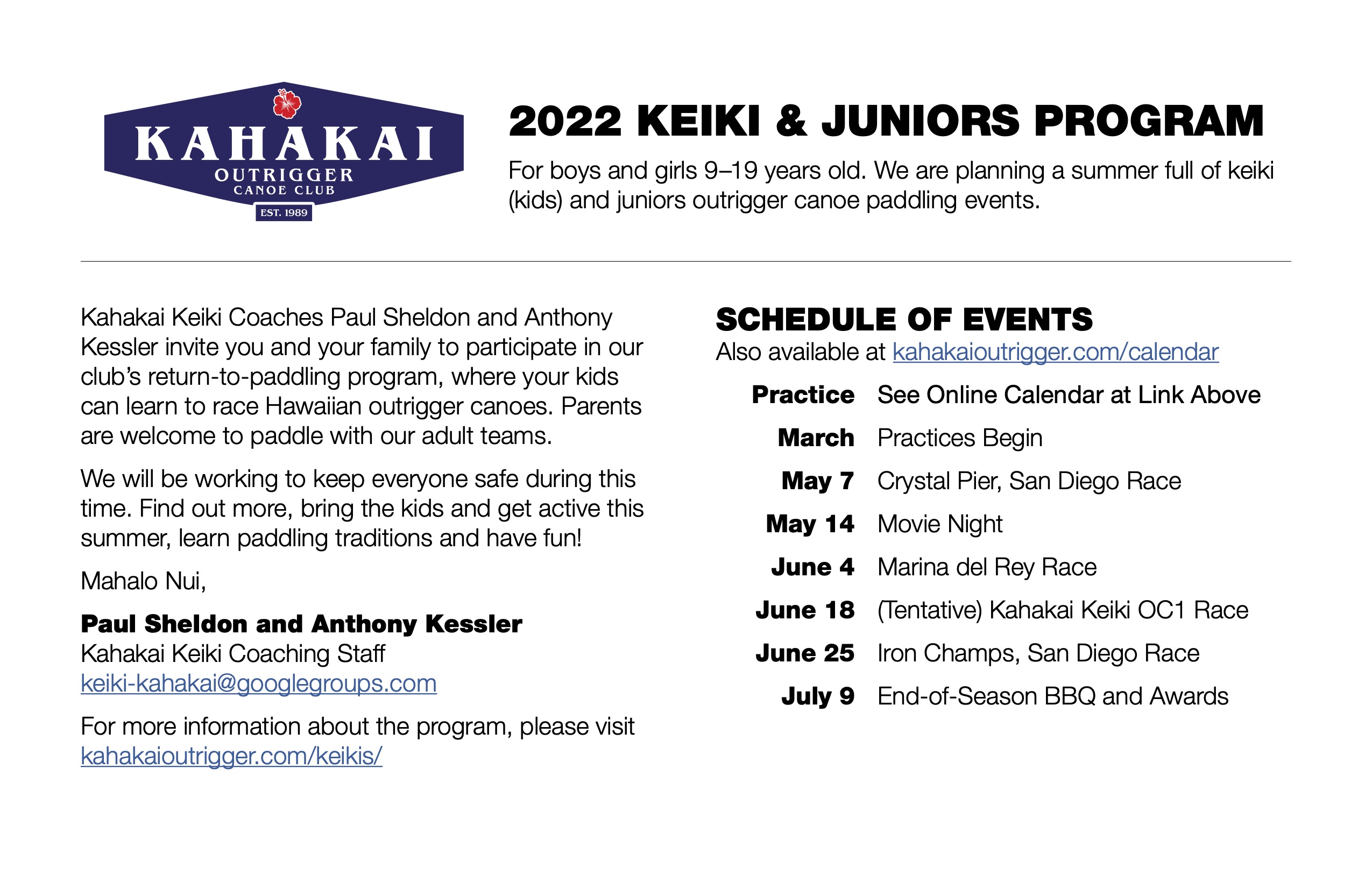 Keiki in Hawaiian means child. And in paddling, kids and teens are the future of our sport.
Following the disruptions of the Pandemic, we are rebuilding our Keiki/Juniors program today.
Join us for a fun and competitive paddling program for boys and girls ages 9-19.
Besides paddling, your keiki will learn Hawaiian traditions, Hawaiian language, responsibility, respect for their coaches, teammates and canoes, how to care for the equipment--and how much fun it is to race a real outrigger canoe!
Season dues (paddle, train, and race) are $150 which includes all race fees, use of equipment, insurance, and a race jersey.
Dues for an additional child (same family) is $100.
  For additional information, please contact our Keiki  coaches or use the Contact Form.
Mahalo! (Thank you!)
________
KEIKI MENTORS WANTED!
We all know bringing in younger paddlers is essential to the future of our sport.  If you're a paddler, you can help. 
You're invited to join our new Mentoring program for Keiki/Junior paddlers. 
Introducing young people to ocean racing is a wonderful feeling and will be worth the investment of your time.  
We're making a list of potential Mentors right now.  Please contact Ant or Paul, or use the Contact Form.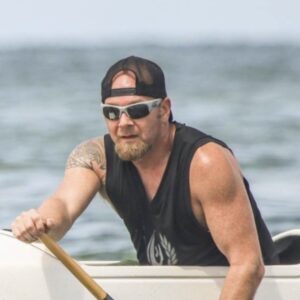 Anthony "Ant" Kessler
Sports involvement: Outrigger paddling, skydiving, & volleyball.
My reason to coach: I started paddling in 1998 in Northern California. My coach Les Charles, an ol' school Hawaiian, taught me to perpetuate a paddling spirit in everything I did. I never lost that vision in every place I have lived across this amazing country and in every race along the way. I have had many opportunities to help mentor and coach others to success which is where I find happiness.
Life advice: Have fun doing everything you do, it makes it easier to win. Don't take life too seriously, you will never get out alive. Accept challenges when you can, it builds character and takes you places you have never been. Take chances, always bet on yourself.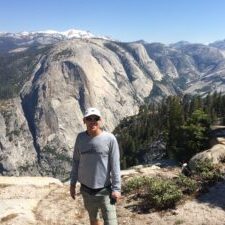 Paul "Rightside" Sheldon
Paul is a Long Beach native who taught Middle School Physical Education and Health for 32 years in Long Beach, attending Lowell, Rogers and Wilson H.S. 
As a lifelong fitness enthusiast, he has spent a significant amount of time training for and competing in a variety of endurance sports, including marathon, open water swimming, triathlon and stand-up paddling events.  He joined Kahakai in 2010 in an effort to broaden his aquatic sports experience. Paddling and competing for Kahakai has been rewarding and has allowed him to broaden his aquatics background. 
A graduate of Long Beach State with an emphasis in Community Fitness fueled his passion for fitness and outdoor recreation.  
Paul's teaching and coaching experiences, coupled with the enjoyment he derives from working with youth make him a good match for assisting with our Keiki/Juniors program. I feel that I have developed some valuable skills for working with children and teenagers. He looks forward to this new adventure and pledges to put forth the effort that will help to continue providing our young paddlers with a positive, self-esteem building dynamic that will help create experiences our kids will remember for a lifetime.